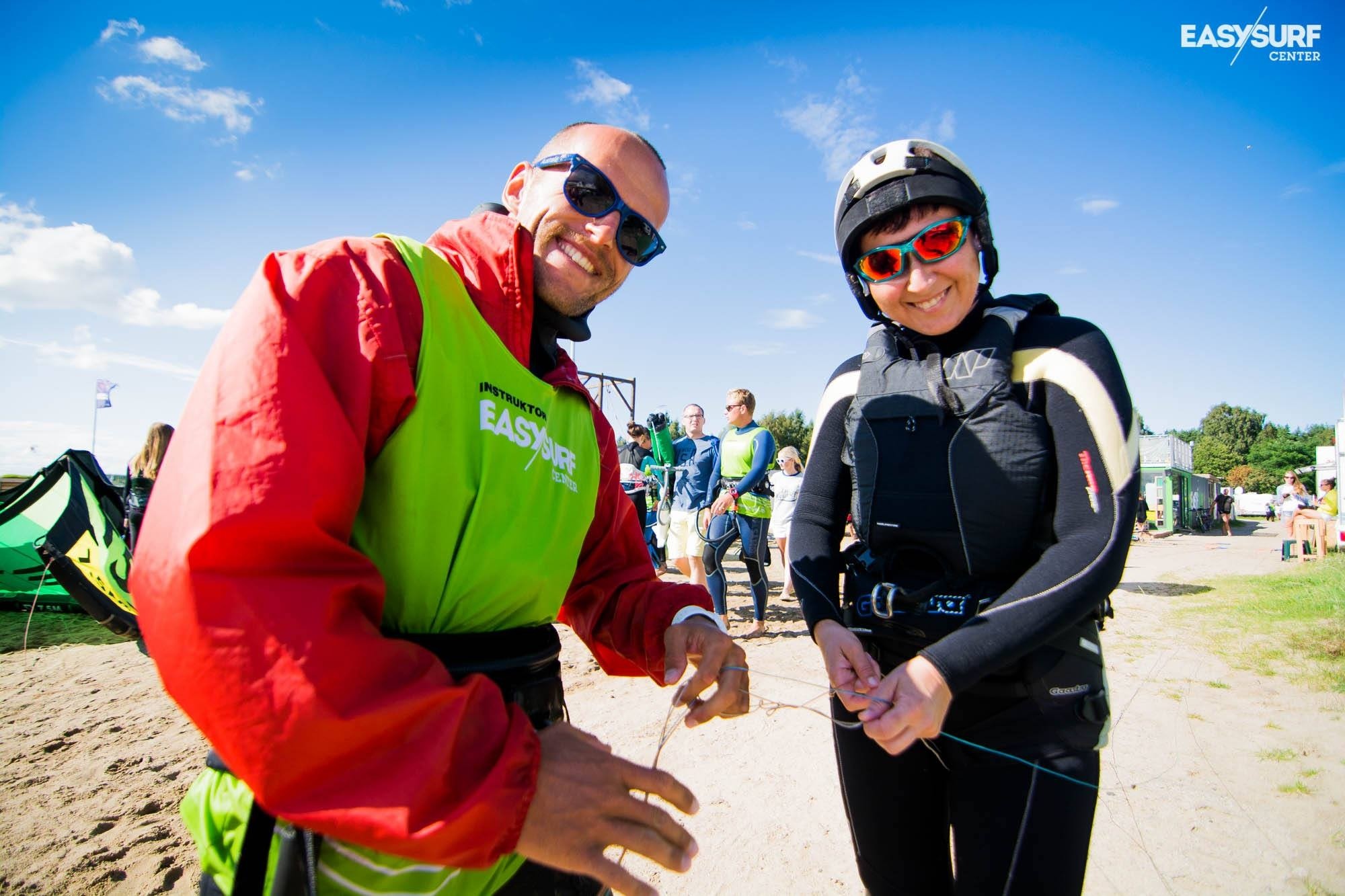 If we have already decided to start a new adventure, but we still hesitate what kind of kitesurfing course – group or individual should we chose then it is worth reading what we have to say about it.
Always the first choice for all beginners is whether the kitesurfing course will be held solo or with a fellow kite enthusiast. Both first and second option have many pluses and a few shortcomings – so welcome to our short description below.
Together or not?
Group kitesurfing course
If we follow quote "the more the merrier" then we will realize that it is also true when taking kitesurfing lessons. Group courses last longer than individual, and exercises are performed alternately with a partner in the group. Not only  you have time to observe the technique while your partner is doing the exercise but moreover you can easily analyze the mistakes or success of the partner with the instructor.
You can then avoid making the same mistakes when comes your turn. The invaluable value of the group course is mutual motivation. Kitesurfing is a passionate sport and your involvement in the course is a pleasure to share with someone who is experiencing exactly the same thing. Mutual sharing of  feelings – among them – common successes and frustrations are always nice to convey to a person who has the same experience. It is worth adding that the group kitesurfing courses of all EASY SURF  schools are up to maximum of 2 people in a group!
Individual Kitesurfing Course
The most preferred course  for people who have only a "moment" to complete the course. With an individual course, the instructor focuses all the attention on one student, which allows for quick progress, but also requires a full commitment from you. This course is shorter and you do not need to share equipment with a partner in the group.
Remember that it requires strong motivation on the part of the student, because in the individual course there is no time to rest and analyze the error. Particularly recommended for motivated people who expect fast results in less time.
Decide today and start your kitesurfing adventure
In conclusion, we chose the advantages and disadvantages of individual and group courses. Once you made a decision then there is nothing left for you to book a course and count down the days – remember that booking online through EASY SURF website  you will receive a 10% discount! Kitesurfing will surely turn your life upside down in a positive way! From now on, you will spend your free time planning kitesurfing trips. Who knows – perhaps with someone who will join you on the course!
Group Course – pros and cons
+ Opportunity to directly analyze the success and mistakes of the partner + possibility to rest between your trials
+ Mutual motivation and assurance in the group
+ Longer duration of the course
+ Lower price
– waiting time when  the partner do his part of the exercise
Individual course – pros and cons 
+ Intensive course, where the instructor is 100% focused on 1 student
+ Shorter course duration
+ No need to wait for a partner's turn to execute exercises
– no rest time
– no possibility to analyze mistake
-higher price