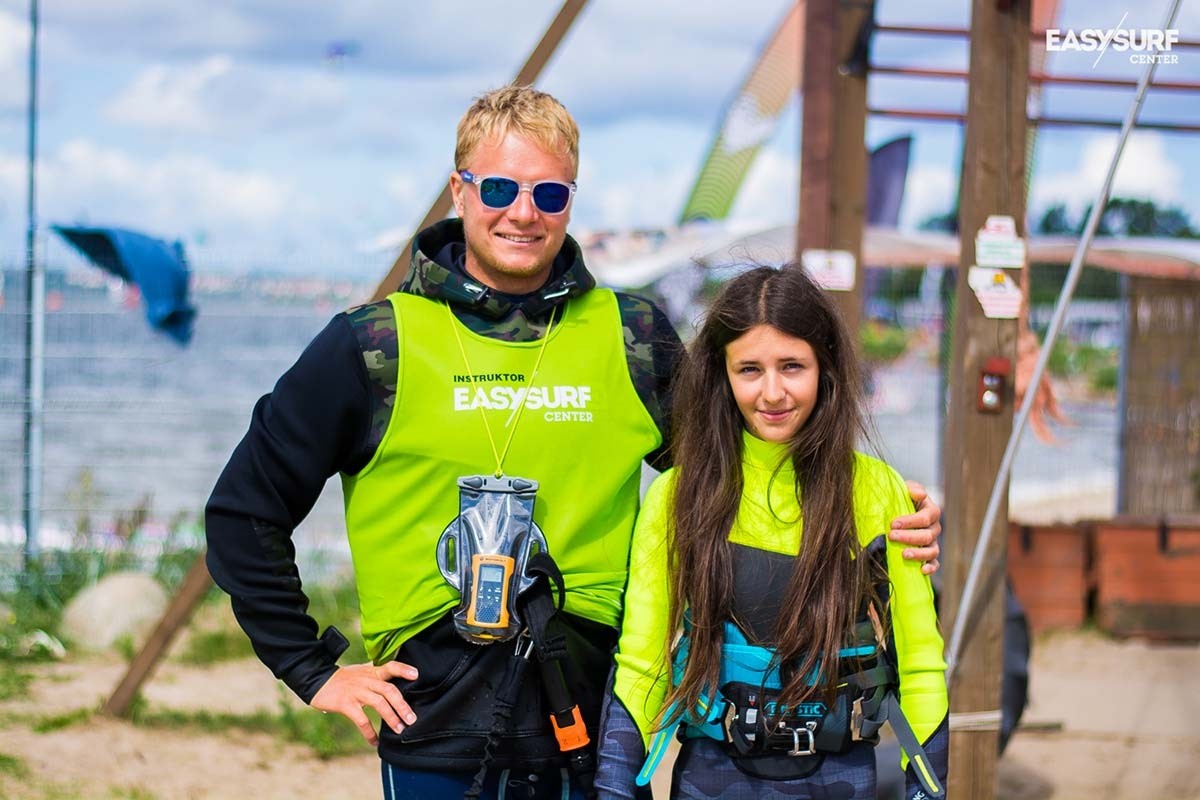 When browsing kitesurfing courses offers you will often find information about kitesurfing lessons with radio – why should you try?  Walkie-talkie is not just another gadget allowing you to chat with your friends waiting for you at the bar. It is simply amazing tool  allowing you to get instant "live feedback" from your instructor.
Below we explain what does teaching with walkie talkie mean and why should you choose it?
At what stage of your kite surfing experience using radio will make sense?
Each kitesurfing course, regardless of its level, is run by a qualified instructor. They  take care not only of your fast progress but also clarify step by step all safety aspects of the sport.
At the beginning the student and the instructor spend time in the water at close distance. First you will learn to control the kite and how to use safety systems. Next steps – bodydragging –  the ability to recover a lost board and generate power through specific kite movements  in the wind window. Learning the basics needed for waterstarts and independent riding – does not require training with the radio. Why? Because performed exercises and close distance to the instructor make us feel safe and comfortable. But what's next?
First waterstarts and independent rides – IKO level II
Imagine that you already know how to control a kite in a wind window.  Commands "quick release" or "let go of the bar" sounds very familiar. The moment your kite pulls you in different directions while learning the bodydrags is extremely exciting. All what you want now is a to get board on your feet and to try your first waterstarts? That is when teaching with walkie – talkie becomes especially attractive.
Why radio gives you an advantage?
The ability to hear the instructor's pointers at any time, even when we managed to ride a few hundred meters away, impacts our safety and confidence. This  will allow for faster progression. Radio communication Instructor – Student will also help you learn the next steps beyond IKO level II. Riding upwind , controlling the riding speed by edging, first turns, jumps and tricks. The instructor using the radio has the ability to give direct instructions and assess maneuvers.  All of it when you don't have  to return to the beach or to the instructor's location.
Important aspect – kitesurfing lessons with radio and spot location
Radio training is especially important when conditions do not allow the instructor to reach a faraway student in a quick and easy way.  Deep water or strong wind. The sense of security as well as the prompt response of the instructor is vital. Over the radio you will receive calm explanation of your mistakes. This is especially important in such conditions. The student does not have to panic and try to understand  gestures and screams of an instructor who is several meters away.
Everyone is a winner here! 
To summarize the positives of taking a kitesurfing lesson with radio we chose the most important points that should convince you that wearing a helmet with walkie talkie is not just a new kite-surfing fashion. It is an important and  positive aspect of learning that influences the quality of your training:
– time saving – the student does not have to wait for the instructor to reach him in order to provide information about possible errors as student immediately gets live feedback
– motivation – an instructor using the radio motivates you to continue when you perform exercises well and push you to go for more
– security – there is nothing more constructive than an instructor who assures us that he is "just behind your back" even when we ride a few hundred meters away – by radio communication it is still possible
– peace of mind and confidence – kitesurfing is extreme sport and just as important as professional instruction is a sense of confidence – this comes with instructor advice being available at all times
– practice – the student is spending more time practicing