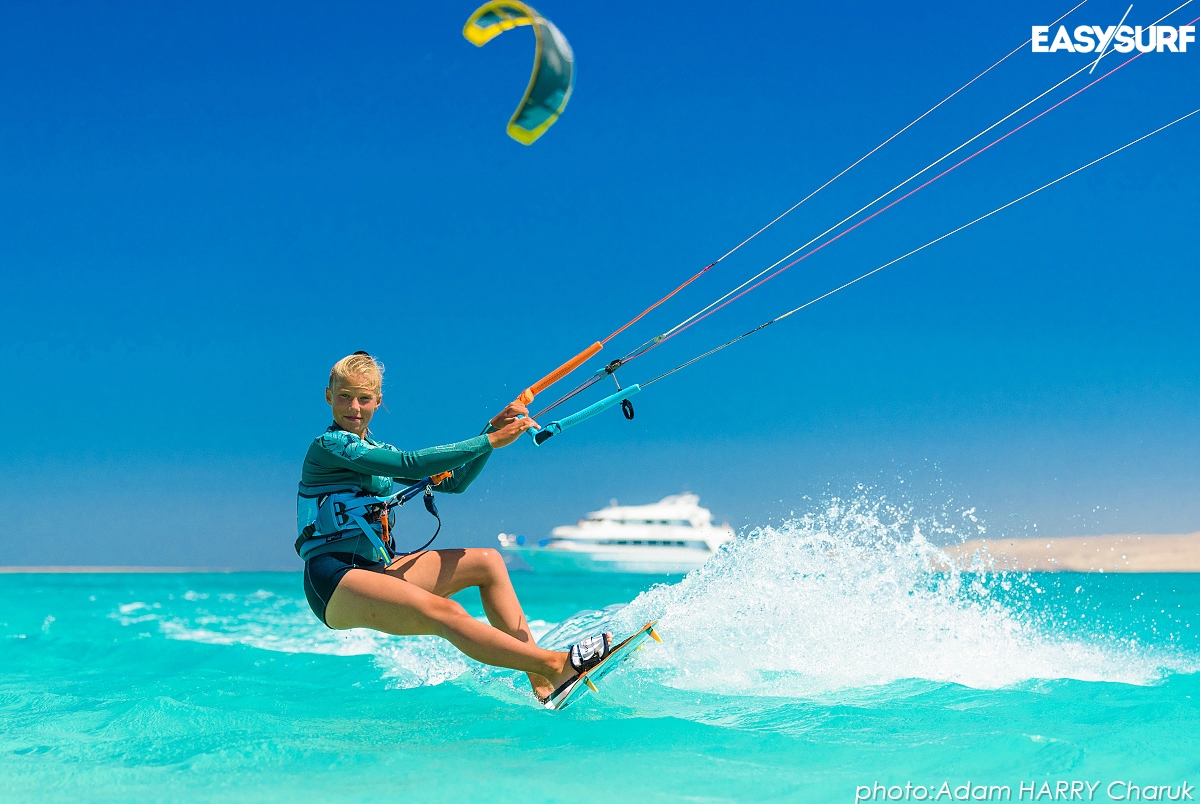 Any experienced kitesurfer knows that to have a successful session on the water it is important to observe atmospheric conditions. For those who take first steps in the world of kitesurfing, or those who have never encountered tidal area we put together an article explaining tides and their importance for kitesurfers.
Tides – where and why are they important to the kitesurfer?
By visiting one of our kitesurfing schools: RedSeaZone / EASY SURF El Gouna in Egypt we will often come across tides. It will matter despite fact that Red Sea is characterized by small fluctuations of water – from 30 to 70 cm. For comparison, the difference in tides in the south of England is up to 2.5m, and in Canada up to 18m! Why then tides or fluctuations between the low tide and high tide is important there? Because we usually ride in a shallow lagoon, where it is possible to "walk" with the kite. Therefore, the difference between tides when water usually reaches up to our hips is significant.
How to understand tides – learn the most important facts
Frequency – The Red Sea is characterized by a 6 hour cycle (6 hour 12 minutes and 30 seconds to be precise) – which means that we have two high tides and two low tides during 24 hours. If today's low water level falls at 8am, then the high water level will reach its maximum just after 2 pm and another low tide will take place after 8pm.
Low tide in high tide will stay at its lower/highest point for 2 hours.
Changes in tides vs. moon phase – amplitude (the jump between high and low water) varies depending on the moon phase. With the highest jump on the full moon and the new moon. Then the difference between the low and high tide will be most noticeable.
Season – in El Gouna the biggest difference between tides is noticeable in summer – from June to August. In the summer, northern winds blow the water from the Red Sea into the ocean. Then (especially in conjunction with the full moon) the lagoon dries out for about 3 hours per day. From autumn to spring the difference between tides is not so noticeable, and you can ride all day.
Shifting time of the tides – taking into account the tide cycle, it is important to keep in mind that the tide time itself is changing too. Every day it moves 50 minutes forward. It's worth remembering when planning "tomorrow's session".
How to plan a holiday taking tides into account?
When planning your holiday it is worth to check out our tidal chart available on the RedSeaZone / EASY SURF El Gouna website.
If we are already in El Gouna and it turns out that we've hit the full moon and low water conditions there is nothing to panic about. A few tips on how to continue your holiday and maximize your riding time below:
check at what time exactly will low tide happen (tides chart is located in front of RSZ office)
plan your riding session when high tide occurs – if it is early in the morning our office will help you to organize taxi to the spot
ask about "downwind", which we often organize when the water in the lagoon does not allow us to ride all day
remember that deep water is just outside the reef available 365 days / year irrespective of the tides. Our dedicated motorboat ensures your safety out there from 8.30 until sunset.
Safety – always first
Our clients often travel and whether your trip is organized by EASY SURF Travel, or you are going on independent adventure – always remember few basic rules:
if you are on the spot for the first time always check the area at low tide – this will help you assess possible threats invisible at high water level
ask local kitesurfers or local kite schools about spot specifics – they always know best
never go for a session alone