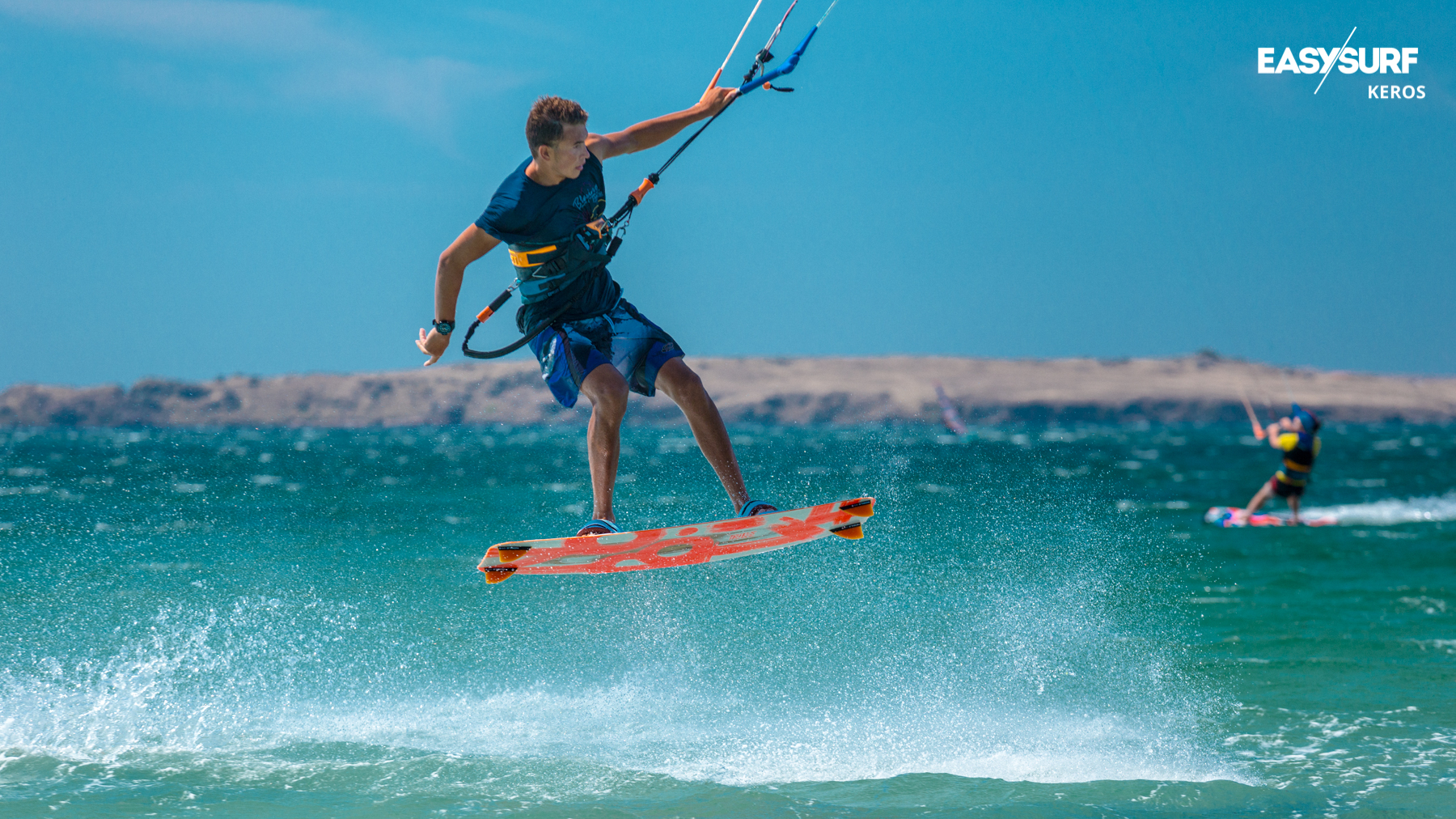 Our new center – EASY SURF Keros will open its door in June and as summer is approaching fast you must wonder "How is the wind there?" We decided to check it out and deliver wind statistics on Lemnos Island write up so you don't have to look further.
Wind statistics on Lemnos
The best wind conditions are in the summer time – from June until September. That is when famous Meltemi wind starts to blow. Although it might sounds more like an Ancient God's name, in fact means nothing else than "seasonal wind".
Meltemi wind is created by High Pressure over the Balkans and Low Pressure over Turkey. The wind is then channeling between islands and mountain valleys delivering wind speed between 15-26 knots.
Meltemi wind
Meltemi is typical for the summer season – between June – September with August and July being the strongest months.
On a typical day it will start in the late morning and die out with the sunset. During strongest months we also experience constant wind for several days – when it does not die out during the night, but actually increases and carries on to the next day.
If you are keen on watching weather patterns yourself you can easily predict upcoming Meltemi and its possible strength, as those are the typical characteristics occurring 24-36 hours ahead:
Higher predicted atmospheric pressure over the Balkan/Northern Aegean
A sudden drop in humidity (first morning without dew)
Scattered little altocumulus clouds one day in advance
A clear improvement of visibility combined with a raise in atmospheric pressure (4 hPa within 12 hours)
Wind directions:
Meltemi wind directions
Meltemi always blows from the North / North – East direction and is indicated by low humidity, cooler northern air and great visibility – fantastic for kitesurfing with a view, and for great photographs.
South wind sporadically occurs in May or at the beginning of June.
How does it look like in reality – wind statistics on Lemnos Island
Wind statistics can be seen on the chart below. Meltemi usually blows 5 -6 days in a row. Then it slows down for a day or two. Mornings are stronger and it will slow down during the day to become quite light in the afternoon – great for newbie windsurfers.
Wind statistics on Lemnos Island
Where to check the forecast:
We rely on following wind forecast for Keros Bay:
SKIRON – University of Athens wind forecast
http://forecast.uoa.gr/forecastnew.php
POSEIDON – Hellenic Center for Marine Research
http://poseidon.hcmr.gr/sailing_forecast.php?area_id=naeg
HNMS – Hellenic National Meteorogical Service
http://www.hnms.gr/hnms/english/forecast/forecast_city_html?&dr_city=Lemnos[/vc_column_text][/vc_column][/vc_row]